Egg Curry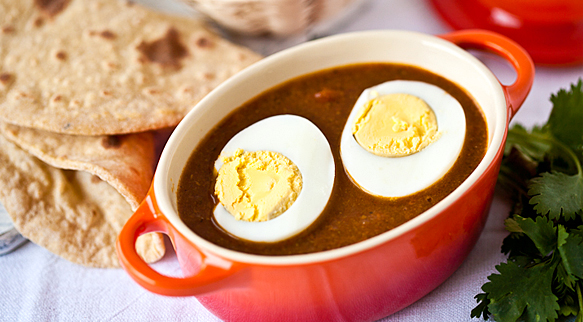 Prep Time: 5 minutes
Cook Time: 25-30 minutes
Serves: 4-6
Egg Curry or Anda Curry is easy to whip up and can turn a busy weeknight dinner into a delight.
Ingredients:

3 tbsp Crisco® Vegetable Oil
1 tsp cumin seeds
1 cup fresh onion paste
2 Thai green chilies, minced
1½ tbsp ginger garlic paste
½ tsp turmeric powder
1½ tbsp coriander powder
Salt to taste
1 cup fresh tomato pureé
1½ tsp garam masala
1½ cup water
¼ cup cilantro, chopped
8 hardboiled eggs
Method:

1 Heat oil in a thick bottom pan. Add cumin seeds. As they sputter, add onion paste and chilies. Cook 10 minutes on medium heat until golden.
2 Add ginger garlic paste. Cook for 30-40 seconds. Add turmeric, coriander powder and salt. Stir. Add tomato pureé. Cook for 8-10 minutes on medium high heat or until mixture reduces to a loose paste.
3 Stir in garam masala. Add water. Mix well. Simmer for 5 minutes on medium heat. Turn off heat. Stir in cilantro.
©/TM/® Smucker Foods of Canada Corp.